In the wake of an increasingly conscious global community, the pursuit of sustainability has gained significant momentum. Organisations and individuals alike are recognising the urgency to adopt sustainable practices, yet the intricate nature of sustainability poses challenges for many in integrating it effectively.
Acknowledging this challenge, Elitez Group and The Matcha Initiative (TMI), a non-profit organization committed to sustainability, have partnered to introduce this groundbreaking Sustainability Masterclass Series. Led by seasoned professionals, this program aims to empower participants with the knowledge and tools necessary to drive sustainable change within and beyond their workplaces.
Why should organisations/individuals join the Sustainability Masterclass Series?
Sustainability is now crucial for organisations due to changing consumer expectations, stricter regulations, tangible business benefits, and its role as a driver of innovation. Consumers are increasingly conscious, favoring products and services aligned with their values. Regulatory frameworks prioritise sustainability, requiring compliance and demonstrating commitment. Sustainable practices yield cost savings through efficiency and waste reduction. Embracing sustainability fosters innovation to tackle global challenges, positioning organisations as industry leaders.
In a world where sustainability has become an imperative, joining the Sustainability Masterclass Series is a strategic choice that can have a profound impact on individuals and organisations alike.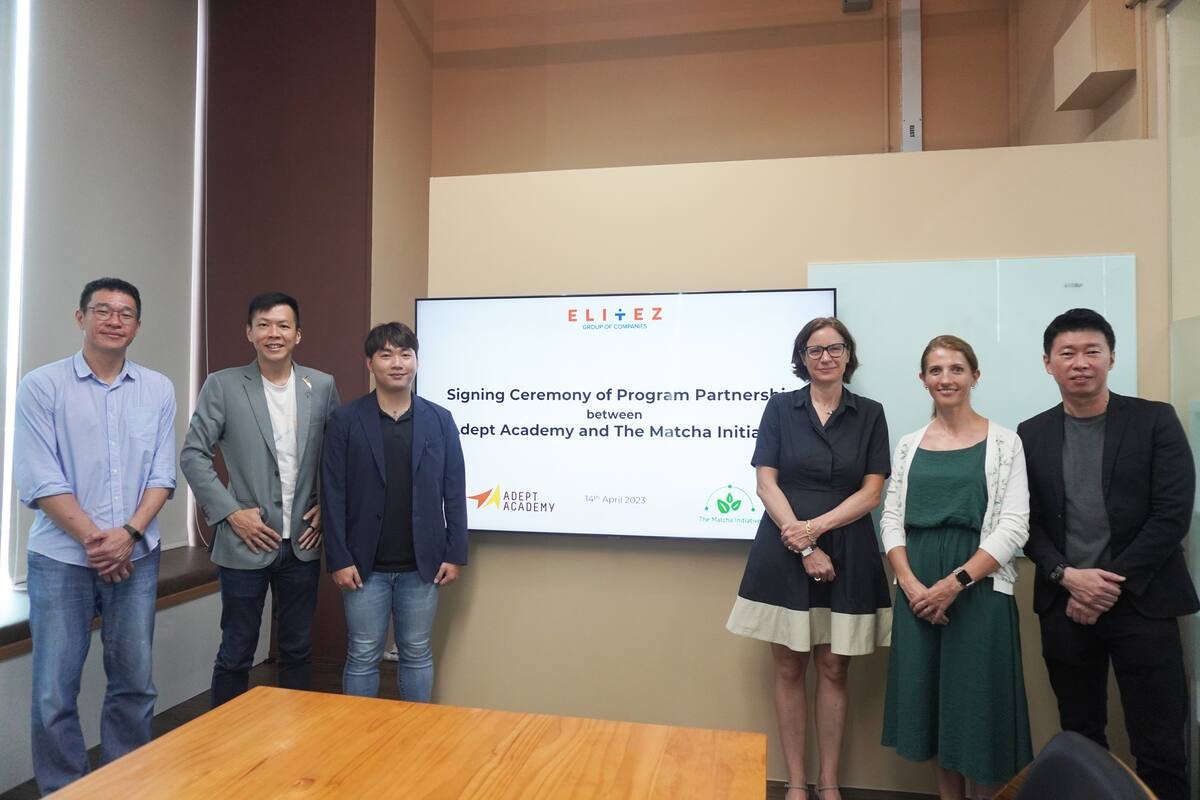 1. Access Unparalleled Expertise
Gain access to a treasure trove of knowledge and insights from industry leaders who have championed sustainable transformations across various industries firsthand. These seasoned experts bring a wealth of experience, equipping participants with the guidance needed to integrate sustainability into their business operations effectively. By learning from theses experts, you will be equipped with the tools to drive sustainable change within your organization.
2. Holistic Learning Experience
Immerse in a dynamic community of learners where mentorship, networking, and knowledge exchange fuels transformative growth. The Sustainability Masterclass Series provides a comprehensive understanding of sustainability's core principles and its practical applications across diverse organizational contexts. Through engaging and interactive sessions, you'll dive into real-world case studies, participate in discussions, and embark on activities that ensure practical application. Within this immersive experience, you'll join a supportive network of like-minded individuals, forging meaningful connections and igniting inspiring collaborations.
3. Explore Key Sustainability Areas
The masterclass is curated to guide participants through vital areas of sustainability. The Carbon Management module provides insights on measuring and effectively reducing carbon footprints. The Circular Economy module explores innovative strategies for waste reduction, resource optimization, and the implementation of closed-loop systems. Participants delve into the impact of digital technologies on sustainability through the Digital Footprints segment, emphasizing responsible digital practices. Furthermore, the program equips attendees with the knowledge and tools to assess and mitigate Climate Risk Management, ensuring organizations are well-prepared for potential climate-related challenges. This comprehensive curriculum ensures participants develop a well-rounded understanding of sustainability across various vital domains.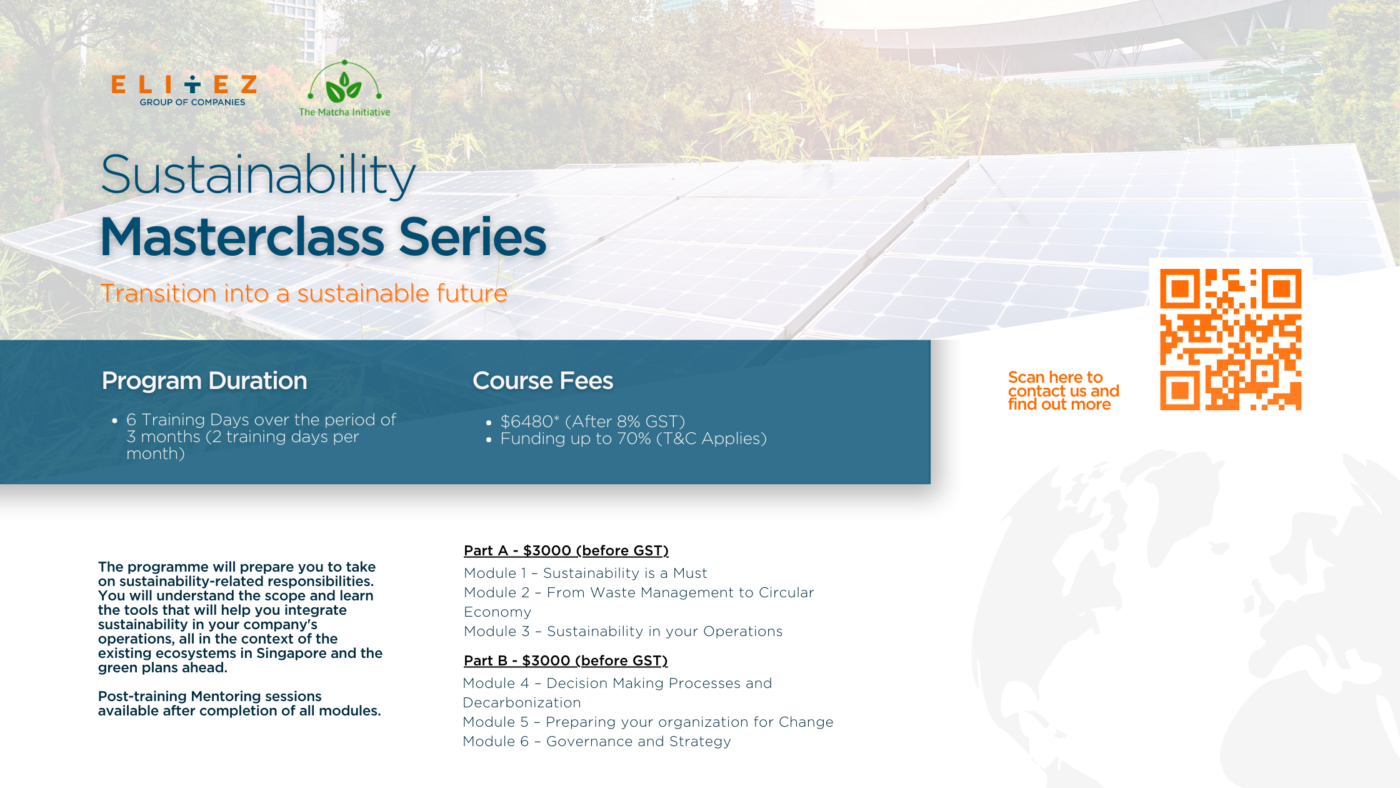 Harnessing Knowledge and Action for a Sustainable Future
Elitez Group's unwavering commitment to sustainability is exemplified through our participation in the United Nations Global Compact and our partnership with TMI. Our partnership with TMI also signifies a union of shared values and a collective commitment to building a sustainable future. By combining our respective expertise, we seek to instill a sense of purpose and responsibility within participants, empowering them to become catalysts for change in their organisations and communities.
As the global community continues to grapple with pressing environmental and social challenges, the importance of sustainability has never been more evident. The Sustainability Masterclass Series offered by Elitez Group and TMI stands as a beacon of hope, bridging the gap between intention and action.
We invite professionals, entrepreneurs, and sustainability enthusiasts to embark on this transformative journey with us through the Sustainable Masterclass Series. Together, we can create a ripple effect of positive change, driving sustainability as a core value in all aspects of our lives.
For more information about our Sustainability Masterclass Series, please reach out to Andy, our Head of Sustainability, at +65 9026 1954 or email andy@elitez.asia. Stay updated on our ESG journey and read our previous article on Embracing Sustainability: SME achieves EcoVadis Silver Award and Adopts NFC Namecards
Join us in shaping a sustainable future. Together, we can make a difference.