Ms Hla Yamin Thwe, a 25-year-old Singapore permanent resident, in Venice, Italy in December 2021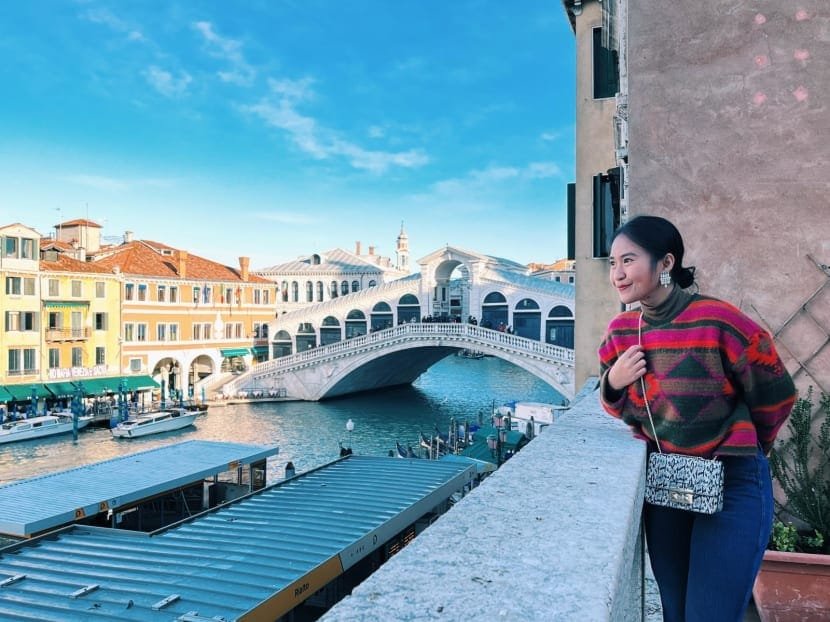 Some Singapore-based firms are allowing or will allow employees to work from overseas for a period as borders reopen
This is so that they can recharge in a different setting or reunite with loved ones abroad
The pandemic has prompted employers to introduce such policies to give employees more flexibility
Even so, there could be some drawbacks such as different time zones, firms and experts said
SINGAPORE — While Ms Hla Yamin Thwe was on the lookout for a new job in October, the thing at the top of her wishlist was that she would be able to work remotely in the months of December and January so that she could visit her sister in Italy.
The 25-year-old Singapore permanent resident had already planned the trip before securing a job and was happy to land a role at an Australian financial technology company here that was willing to allow her to work overseas for about one-and-a-half months.
Her company is among several in Singapore that are permitting or that will soon allow their employees to work from overseas as borders reopen, so that they can recharge in a different setting or reunite with loved ones living in other parts of the world.
Singapore has quarantine-free travel arrangements with 27 countries, including Italy.

"The change of scenery really helps me a lot and I could use the weekends to take short trips to nearby cities in Italy, like Venice and Rome."
Ms Hla Yamin Thwe, account manager
Ms Hla Yamin Thwe, who is a citizen of Myanmar, said that for nearly three years, she had not seen her sister, who is serving in the United States Navy and based in Sicily, Italy.
"I was adamant about going for this trip regardless. I didn't even mind coming without securing a new job, because I wanted to reunite with my sister," the account manager told TODAY from Italy.
"I talked about this trip during all my interviews with various companies and I said that I didn't mind working remotely if they were cool with it."
Before making the trip on Dec 1, Ms Hla Yamin Thwe said that she had an agreement with her employers that they would not bear any quarantine costs and she would ensure that she obtained the relevant visas to return to Singapore on Jan 15 next year.
"My bosses were super nice about it and I'm so glad that they let me start work at 7am Sicily time, which is 2pm Singapore time. I have meetings with my team in Singapore, and I speak to my boss and support the clients until 6pm Singapore time.
"Then I'll just clear up what I have to do after my team in Singapore knocks off," she said, adding that she also supports her clients in the United Kingdom, which is one hour behind Italy.
She has relished the experience of working from another country so far.
"The change of scenery really helps me a lot and I could use the weekends to take short trips to nearby cities in Italy, like Venice and Rome."
After work, Ms Hla Yamin Thwe often hits the gym and spends time with her sister.
"It has been really nice to do this and I'm immensely grateful, because I felt so suffocated from not being able to travel for the past two years."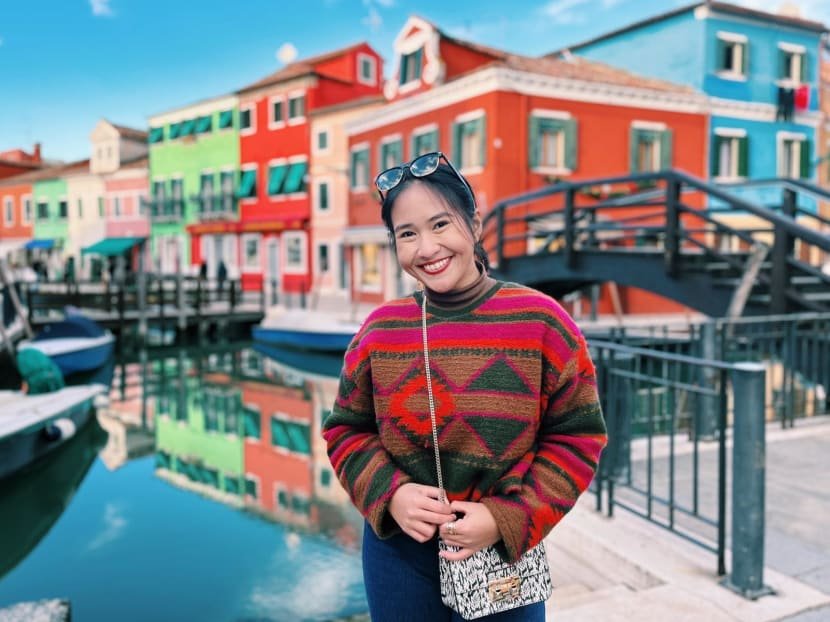 Ms Hla Yamin Thwe visiting Venice, Italy in December 2021. Photo courtesy of Hla Yamin Thwe

'VIRTUAL-FIRST MINDSET'
Ms Hla Yamin Thwe's company is not the only one that has allowed Singapore-based employees to work from overseas.
American technology firm Microsoft Singapore rolled out policies in October last year to guide employees on scenarios that could include changes to their work location or working hours once offices open without any Covid-19 restrictions.
Its human resources lead Lynn Dang said that part of the guidance includes allowing employees to work remotely from anywhere, including overseas.
For example, an employee who is visiting her family in the Netherlands has been working remotely for more than a month.
"This flexible working arrangement allows her to spend time with her loved ones whom she hasn't seen in two years," Ms Dang said.
"Another employee, who recently returned from Brunei, also worked remotely while enjoying vacation time as part of the trip."
While there may be potential drawbacks such as time-zone differences, Ms Dang said that teams and managers were usually accommodating of such schedules.
In the meantime, American multinational firm 3M told TODAY that it rolled out a global policy on "temporary alternate work" arrangements in January to give employees more flexibility.
Mr Kevin McGuigan, its vice-president and managing director for Southeast Asia and country leader for Singapore, said that under this policy, employees can work remotely from overseas for up to 30 days in a calendar year.
Its employees may also couple their vacation leave with remote work to have a longer stay in a foreign country.
He said that 3M, which has more than 1,800 employees in Singapore, would expand on its flexible work programme and roll out a new work model early next year after considering "lessons learnt from pandemic remote work and employee feedback".
"Founded on trust, the model builds on a virtual-first mindset, and prioritises an employee's contributions and results, not where they work," he said.
At telecommunications provider MyRepublic, employees have been able to work from any location for up to four weeks a year since last month.
Its group chief people officer Deborah Woollard said: "Two years into a world changed by the pandemic, it's become clear that our previously deeply held beliefs and practices about work can and must evolve."
Given the recent lifting of some travel restrictions, MyRepublic felt that introducing such policies would provide its employees with a chance to spend quality time reunited with their families or to recharge.
Ms Woollard said that some employees have already tapped the new initiative for trips including long-overdue overseas visits to family members whom they have not seen since the pandemic started.
"Best of all, this has in no way affected their productivity or contributions to their roles at work," she said.
"We believe that offering the flexibility to work from another location is a way of supporting our employees' well-being."
Smaller firms in Singapore are also offering employees such flexibility.
Mr Marcus Ho, managing director at Brew Interactive, a digital marketing agency, said that his company went fully remote and ditched its office several months ago.
He added that there was no fixed rule for how long a Singapore-based employee can work remotely from overseas.
"In fact, one of our staff members has been having a workcation (a work vacation) for the last two months in Europe," he said.
"Some employees prefer working from home in Singapore, some prefer to work remotely overseas and some prefer to be in a co-working space. I said 'fine, work however you want, as long as you get the job done'."
Mr Adrian Choo, chief executive officer and founder of consultancy Career Agility International, oversees a team of six in Singapore.
He said that he was open to experimenting with remote working for his employees for up to three or six months.
"We wondered whether staff could operate out of the country and the answer to that was 'why not?'. Most of the work is done remotely anyway, work from home. It doesn't matter whether the person is sitting in Bedok or in Bali. It makes no difference," he said.

"Some employees prefer working from home in Singapore, some prefer to work remotely overseas and some prefer to be in a co-working space. I said 'fine, work however you want, as long as you get the job done'."
Mr Marcus Ho, managing director of digital marketing agency Brew Interactive
TIME DIFFERENCE
Yet Mr Choo acknowledges that there might be some some drawbacks.
"There's a big adjustment between the company and the individual, especially if there's a time difference. If you want to go to Europe, your day starts at 4am, in order to work Singapore time.
"How sustainable is that? For a month, maybe you can. But for a couple of months, it can be tiring," he said.
Mr Derrick Teo, group CEO of the Elitez Group of Companies, which provides human-resources-related consultancy services, said that his company had plans to roll out a policy next year to let its employees work remotely for three months every year.
Asked why companies have not fully embraced such programmes, Mr Teo said that some managers would very much prefer to see their staff members working in the same facility as them, or at least know that people are within reach and can gather for face-to-face meetings at any time.
At digital consultancy Publicis Sapient, Ms Emma Scales, its Asia-Pacific managing director, said that from the start of next year, its employees would be able to work from any country where the company is present, for up to six weeks a year.
Publicis Sapient has 50 offices worldwide and employs 20,000 people.
Ms Scales said: "It is undeniable that remote working comes with its own set of drawbacks, such as feeling isolated and disconnected, the blurring of work and personal time, and finding difficulty in establishing relationships with co-workers, especially for newer employees."
It is for this reason that the company has a digital HR tool with features that can alleviate some of the difficulties that employees may face with remote working.
These include a round-the-clock contact centre, where employees may seek help from experts on questions related to travel, health regulations, visas, and work permits.
This story was originally published in TODAY.