Stories of bad internship experiences abound, it may not be a bed of roses for some – However, if you are fortunate to land a great internship, it will provide you with the knowledge and skills needed to become successful in a certain specific career field.
We believe people are the backbone of the businesses, hence we want to nurture the interns and help them grow so that they leave with a valuable experience. In this series, we connect with James and Darren, to discuss their internship experience and, perhaps, gain some insights on how we fare as an employer.
James, 26 Marketing Intern
Can you share more about yourself?
My name is James and I am a student from Singapore University Social Sciences (SUSS) currently on my Year 3. This is my 2nd internship that I have been part of.
How long have you been working with Elitez Group as an intern?
For me, I started on 1 Sep 2021, now it's coming to December so it's going to be my 4th month here.
What are you expecting out of the Internship?
Personally, internships are a great way to immerse myself in the company culture, learn more about the nature of marketing and meet new people.
How did you end up joining Elitez Group?
I got in through a friend's recommendation, they were looking for a Marketing Executive, so I applied.
Darren, 19 Business Development Intern
Can you share more about yourself
Hi, I am Darren currently in my 2nd year of studies in High Nitec Accounting at ITE College Central. I am part of the Elitez BD Support Team and this is the first internship in my life.
How long have you been working with Elitez Group as an intern?
Since 4 Oct 2021, so it will make it about 2 months.
What are you expecting out of the Internship?
An opportunity to expose myself to various experiences and learn how real businesses operate while fulfilling my school's curricular requirements.
How did you end up joining Elitez Group?
A friend of mine recommended me to join Elitez Group of Companies. He was one batch ahead of me, though he was assigned to work in Dynamic Human Capital instead of Elitez.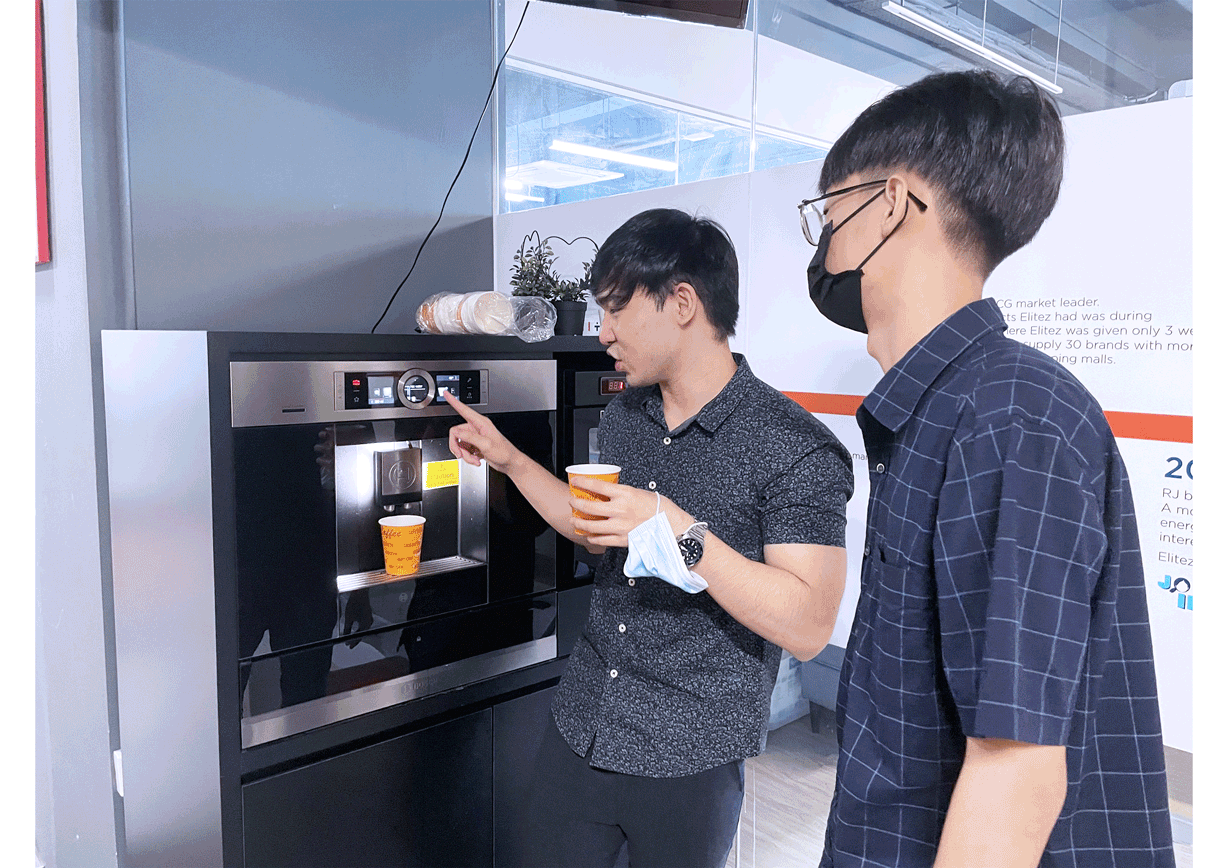 So, what is a normal workday like?
James: We currently work from home, but on a normal day, I would be coming in around 9 am to 9.15 am, making a cup of coffee in our pantry, and then get to work, checking my emails followed by lunch. There is a nice bakery around here called Brother Bird, I highly recommend it. After lunch, I'd start working on my other tasks, which I'd end the day around 6 pm.
Darren: I reach the office between 9 am to 10 am. I usually come in with my friends; they are my ITE classmates, and we both intern here. I'll simply grab a cup of water from the pantry and begin going through my emails, as well as checking on ART status for the healthcare operation. By lunch, I will clear some rostering work and then I'll continue to work on other miscellaneous tasks after.
What is it like working from home as an Intern?
Darren: Working from home is much more relaxing. In the office, I would have to show a different side of me. I would still get my things done at home before the deadline but way slower than I was in the office. I stay quite far but I still prefer to work in an office because I get to see and talk to everyone.
James: For me ah, working from home has its perks. I can save on transport and a little on food other than that I think there should be a fine balance between work and home. A home is a place for us to rest and it doesn't really make sense for you to work at home if we don't have a dedicated space. I definitely prefer working in an office because it provides a set environment for work.
How do you find your experience here in Elitez so far?
James: So far, my experience with Elitez has been positive; I have gotten a lot of exposure to different things ranging from tenders to market and employer branding. What interest me the most was learning about the Diversity, Equity, and Inclusion (DEI) Framework in the human resource industry.
Darren: Everyone here, in my opinion, is a lot of fun and outgoing, so I enjoy my time. Elitez is a good learning ground, I was involved in two hospital projects and learned how each hospital operates differently in terms of staff management. A coffee session with Derrick, the CEO, was a memorable and enjoyable experience for me. I told him about my dream to be an entrepreneur, and he was very encouraging; he listened and gave me business start-up advice, which I really appreciate.
What have you learned from your internship here?
James: I've learned how to converse with people and upsell.
Darren: Through the hospital projects, I've learned how to communicate with my colleagues and clients, as well as how to be more organized when comes to consolidating things. I'm becoming more meticulous because there is no room for error. Any mistakes I make will have an impact on the operations.
What is your biggest takeaway?
James: I would say to be more humanistic. I see that the pandemic has taken a toll on many companies, and Elitez, being a Human Resource services provider, takes a more humanistic approach in their business continuity strategy. This is something I feel strongly about and hope to foster better in my life.
Darren: I am able to plan my career direction better, I get a sense of what I like and I don't during the internship. This shapes the development of my long-term career goals. On top of that, I now have new skills to add to my resume!
What do you enjoy and what do you enjoy least here?
James: I enjoy getting to work with different business units, they are pretty friendly and welcoming! It makes things easier when I try to converse and learn about things in the organization. What I really like is the flat hierarchy here, I guess it's akin to the new culture. That has been eye-opening for me, and I enjoy this culture.
" I can't pinpoint exactly what I least enjoy, maybe working from home? *laughs"

James
Darren: I like the company atmosphere, friendly and fun people to work with. The least enjoyable would be the workload?
What surprised you the most about your work experience at Elitez
James: I realize the importance of being versatile, a lot of individual here is equipped with diverse skills.
Darren: Ownership and flexibility at work! They would assign me tasks with realistic and achievable deadlines and leave me to take charge of how I plan and manage these assignments as long as I deliver them on time. I'm getting better at organizing myself and managing my time.
If you could change one thing about Elitez what would be it?
Darren: Nothing! I've made a comparison with my friend's experience, people here are way nicer. I'd say it's an enjoyable and nurturing environment to learn, with a good mentor and guidance. I don't take the tough approach well, who would enjoy getting scolded every day?!
James: Perhaps, giving tangible stuff for the employees! It would make us feel more welcome when we join! For instance, a company T-shirt, tumbler, and so on. The tangible gifts are important because they remind us of our time here, a memory, a memento.
" Speaking of which, I have asked for Derrick for the team shirt which is not for the Interns. Maybe they can give us limited edition ones like the Interns T-shirt. *laughs "

Darren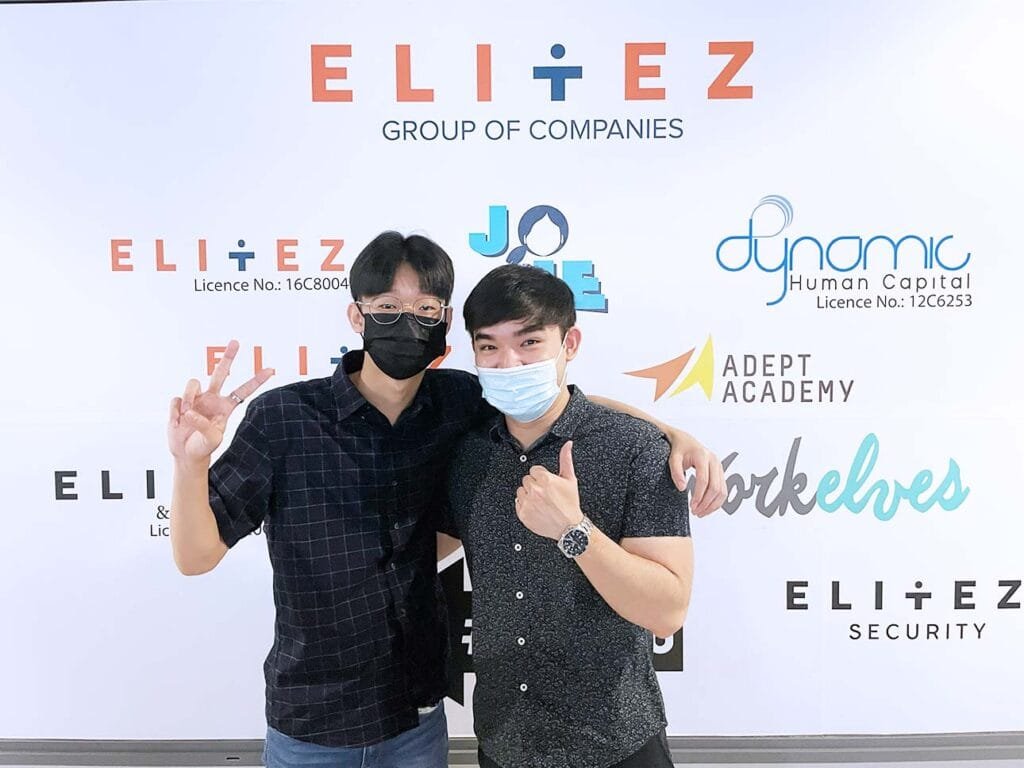 What helped you to prepare for success during the internship and what are you most proud of achieving?
James: I think "success" is relative. I feel that as long as I am helpful and capable of solving problems, then it is a success? I don't necessarily have a "most proud" moment, but I do have several moments when I was happy. Like when I did a mini copy-writing for all the different business units, creating a themed-trend poster for DHC technology, and the TikTok video for ESG.
Darren: Personality and mentality. A strong personality, allows me to work well with my colleagues. Having a strong and stable mentality helps me in getting through tough times at work. I am quite savvy in tech stuff, so I am proud to be able to contribute and help Derrick in re-selling office and server equipment.
How did you develop personally and professionally throughout the internship? 
James:  Elitez people are mostly health and fitness advocates, it helps to develop my physical well-being. I get to relieve stress, gain mental clarity, and, of course, stay in better shape! Good mental health definitely improves my work performance.
I have witnessed how a collaborative environment can forge a strong team and drive organizational growth. Personally, I've grown to be a resilient individual. Internships have shown me real-world scenarios, and roadblocks are part of life. When faced with a difficult situation, I will now take a step back, look for alternatives, be resourceful and not be afraid to ask for help when necessary.
Darren: I get a better understanding of my chosen field and get hands-on exposure. I look forward to bringing value to my future employers with the skills I developed while interning with Elitez.
What are the challenges that you've met during your internship
James: One of the biggest challenges I faced is creative roadblocks. Sometimes I could be just sitting there with stale progress due to the lack of inspiration.
Darren: The challenge I face is the tight deadline, at the end month there are billings and payrolls that I need to get done within that short time frame.
How did you overcome this challenge?
James: I try to look at things differently, there are always multiple solutions to one thing. I refer to different mediums like Pinterest, Google, Youtube for inspiration. When I really can't move on, I'll seek help from my mentor.
"With the help of my mentor who is very patient with me, I was able to overcome these challenges"

Darren
What other things would you like to explore with your time here in Elitez which you haven't?
James: Social and Environment stuff, it's the next big thing! Elitez is progressing to be a more socially environment-conscious company so I would want to tap on and it's something that is synonymous with my principles.
Darren: I'm happy in the operations department but if I'm going to be here till February 2020, why not learn more new things? If I may, I would like to be involved in Internal Human resource matters.
Do you have any advice for future interns?
James: I am not wise enough to give advice, but I guess that is open to learning and criticism makes one stronger than they previously were.
Darren: Put in extra effort and learn anything and everything you can.   
So If you could say something to your boss, what would you say?
James: I am very extremely thankful to all of the different bosses in Elitez for everything they have given me, from sharing their experience and knowledge to imparting practical skills. They play an important role in my work-life experience.
Darren: I would like to say "Derrick, I am extremely thankful for the advice you gave me during the coffee session." And to my mentor and supervisor, "I am also extremely grateful to you for sharing with me your knowledge and skills, so I can have a better work-life experience in Elitez."
"Maybe I should grab a coffee with you also Darren!

James"
Having worked with the interns, more often than not, they bring much-needed enthusiasm and fresh ideas – ones that we as full-time employees may be too jaded to come up with. We are glad to have this opportunity to connect with them. Obviously, we are sensing a new budding relationship forming; talking about their interest, showcasing their hidden talent in building Mechanical Keyboard to selling ethernet cables and other businesses.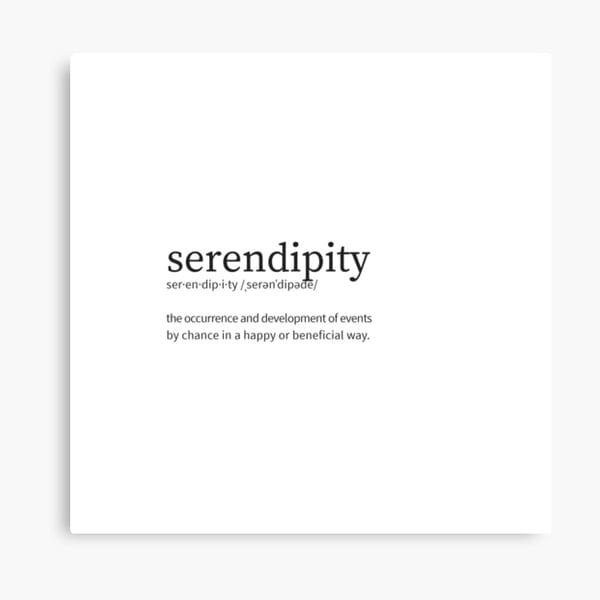 Well, you never know what comes about, just look at our founders, Derrick and Wayne started Elitez through a mere coffee session. Perhaps this connection, this conversation, will lead to the beginning of something meaningful.
Also, if you are interested to score an internship with Elitez Group of Companies, write to hrdepartment@elitez.com.sg.